Print & Logo Design in Frederick MD
Could your company's logo use a redesign?  Whether you need a logo for a new business or simply want to update your current logo, Frederick Advertising can help.
We are committed to ensuring your company's logo be the best representation of your brand. We listen carefully to each client and work with a talented team of designers to offer clean, effective and affordable logo designs.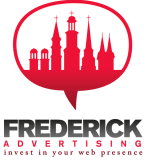 Frederick Advertising is a One Stop Shop for all your WordPress Development and Design Needs.
Great Solutions Start with Simple Conversations.